In the summer of 2022 South West Water announced their first hosepipe ban of the current drought on August 15th:
From 00:01am on 23 August 2022, customers who get their water from us in Cornwall and a small part of Devon will not be allowed to use a hosepipe.

It's the first time in 26 years but we've been left with no other choice. We need to have a hosepipe ban now to protect our precious water.
On April 18th 2023 an extension to the temporary use ban was announced:
South West Water is urging customers to reduce non-essential water usage by extending the Temporary Use Ban, otherwise known as a hosepipe ban, which is already in place in Cornwall and parts of North Devon, to other parts of Devon.

The restrictions are being introduced to protect supplies following lower than average levels of rainfall last year and throughout February.

The hosepipe ban will apply to customers in South West Water's Roadford supply area and will come into effect from Tuesday 25 April 2023 at 00:01.

While South West Water has taken every precaution to prevent further restrictions being required, Cornwall, Devon and the Isles of Scilly remain officially in drought status as declared by the Environment Agency.

Reservoir levels fell to their lowest recorded level last year and storage at Roadford Lake is currently around 27% lower than it was at the same time in 2022, the equivalent to nearly 3,800 Olympic-sized swimming pools.
It's raining here in West Devon yet again this morning, as the first anniversary of the imposition of the continuing hosepipe ban rapidly approaches: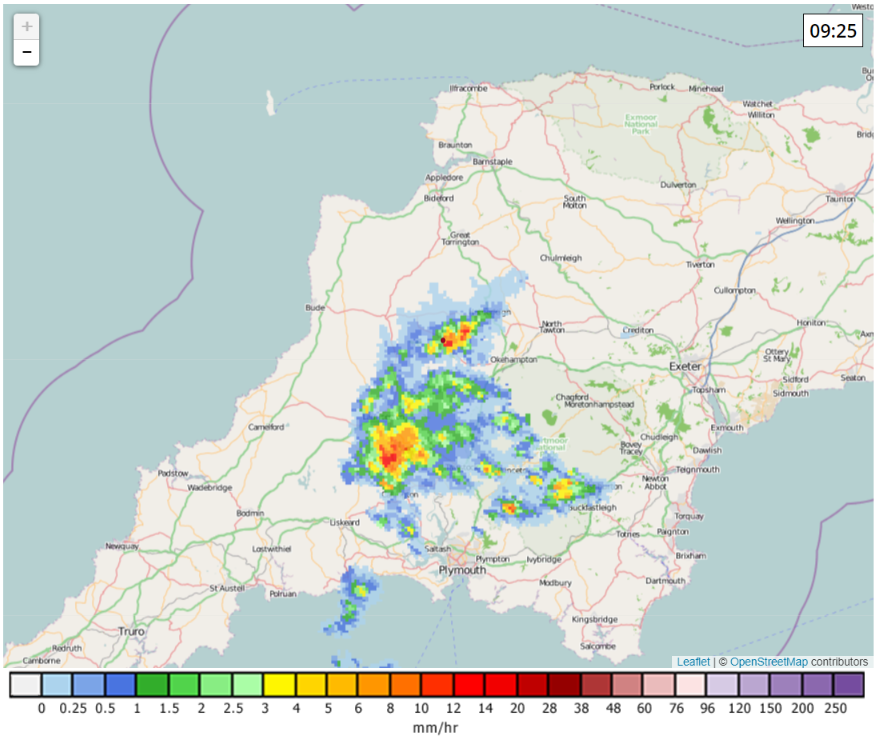 Despite the unseasonably inclement weather so far this summer, South West Water's temporary use ban remains in force. Like me, you may well be wondering "Why?"?

South West Water published a new 5 year "drought plan" in September 2022:
The Plan is prepared in accordance with guidelines issued by the Environment Agency. It describes how we intend to maintain water supply to our customers in the event of a drought. It also explains how we would aim to balance the needs of our domestic and commercial customers, the economy, and the environment.

Our new Draft Drought Plan was published for public consultation on 8 June 2021. We considered all feedback received when producing our Final Drought Plan, which Defra has now granted us permission to publish.

No information has been excluded from this Plan on the grounds of national security.
According to the plan's "non technical summary":
The impact of increases in global temperatures could potentially lead to larger and longer droughts, more intensive periods of rainfall and sea rises, all of which could pose a varying degree of risk to the services and supplies to South West Water customers. If in the rare case we were faced with a drought in the region we have prepared Our Drought Plan, which would guide us through what specific actions should be taken.

We are confident that this plan will ensure that we can keep your water supplies resilient whilst protecting the environment…

Customers tell us their number one priority is a safe and reliable supply of water.
According to section 7.1 of the drought plan itself, entitled "Identifying the end of a drought":
We would use the same environmental and water resource triggers that we use to identify the commencement of a drought, in addition to other local factors, to identify a return to "normal" conditions in relation to supply and the environment (Table 7.1).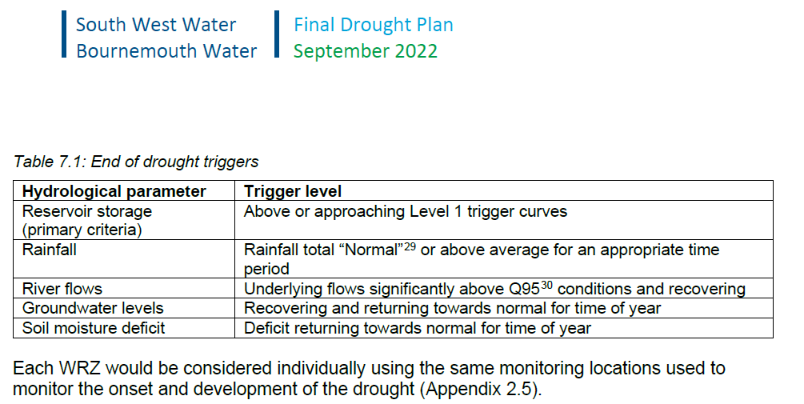 Let's now take a close look at the current state of those criteria for the two Water Resource Zones in turn. Here is the graph of reservoir storage trigger levels for Colliford Lake from Appendix 2 of the drought plan: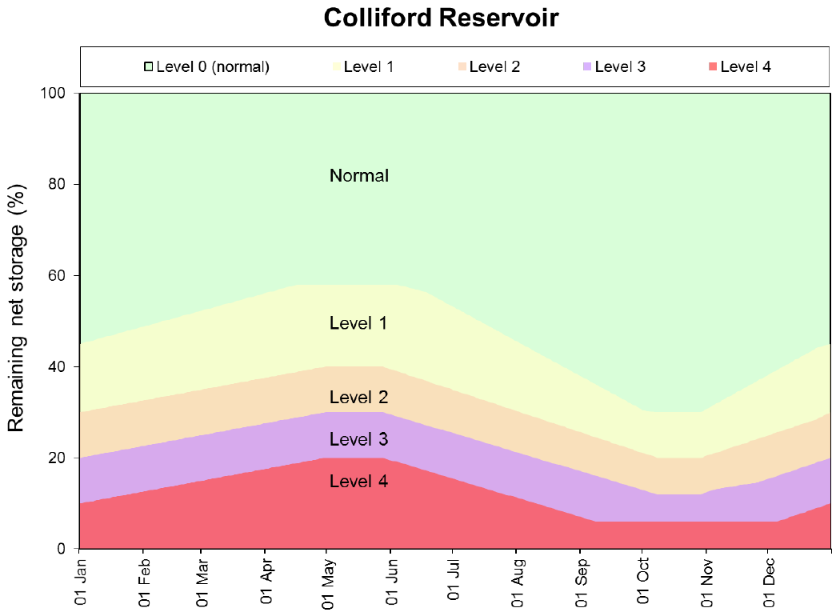 The Level 1 trigger level for mid August is approximately 43% of total net storage. According to South West Water the current water level in Colliford Lake is 57%:

Clearly SWW's first criterion in table 7.1 is satisfied.
Local residents will have already concluded from their own experience that the "rainfall" parameter is currently "above normal"! However let's take a look at the official figures. Here's the data from this week's Environment Agency weekly rainfall and river flow summary: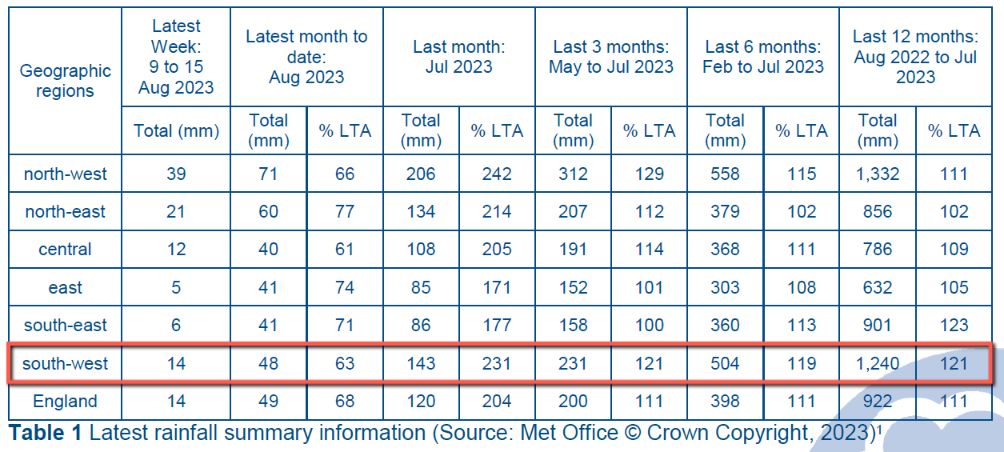 Rainfall in South West England has been above "normal" when average over the last month, the last quarter, the last half year and the last year. This month looks poised to be "above average" as well.

Surely that means that criterion 2 is satisfied? Unless perhaps 12 months is not "an appropriate time period" for some reason?
The next criterion is "river flows". Here's another extract from last week's EA report:
River flows have decreased at three-quarters of the sites we report on compared to the previous week, with the majority of sites that increased being in north-west and north-east England. River flows were generally normal in south-east and east England and above normal and higher elsewhere, with exceptionally high flows in north-west and north-east England. Overall, 39% of sites were normal for the time of year, 33% of sites were above normal, 17% were notably high and 7% were exceptionally high. Just two sites (4% of the total) were below normal for the time of year.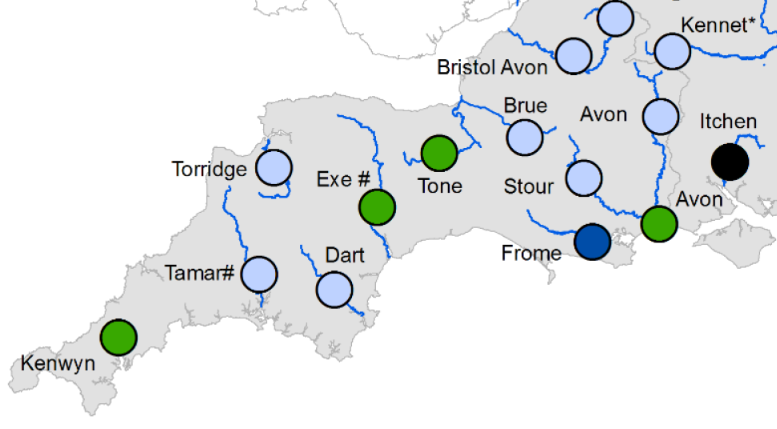 Across Devon and Cornwall flows in the Exe and Kenwyn are "normal", and in the Dart, Tamar and Torridge they are "above normal". Criterion 3 also seems to be satisfied.
The fourth parameter is "groundwater levels". South West Water classify Park and Stannon Lakes as groundwater extraction sites, and that presumably applies to the newer Hawks Tor Reservoir as well. Unfortunately SWW don't publish water levels for those reservoirs, but here is some anecdotal evidence: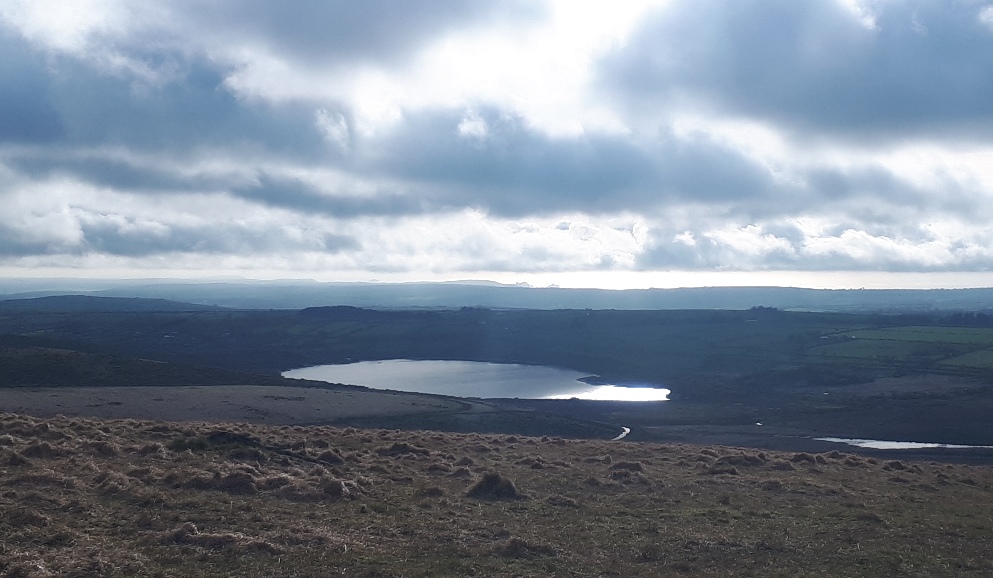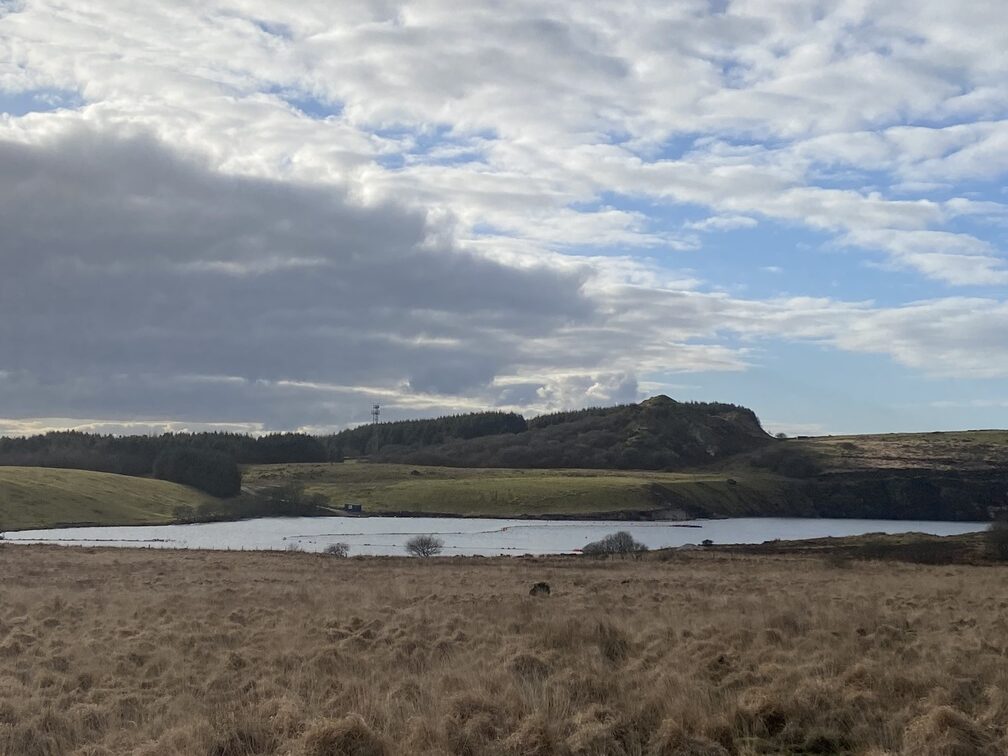 I find it hard to believe that parameter 4 is a problem at the moment!
The final parameter is "soil moisture deficit", which is much improved compared to this time last year. Compare the European Drought Observatory's "Combined Drought Indicator" map of SW England for the first 10 days of August this year with the same period last year, shortly before the hosepipe ban was introduced: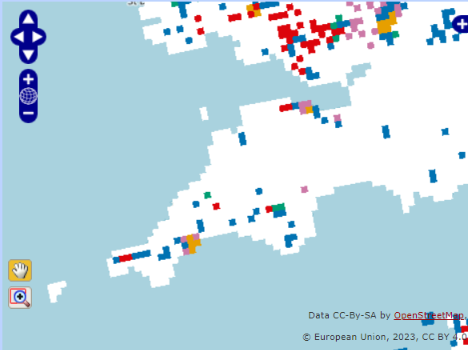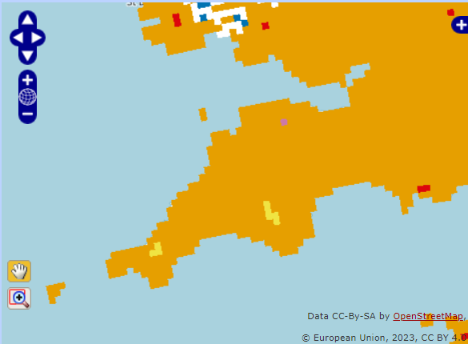 Soil moisture levels are back to normal across almost the whole of South West England.
Moving on to Roadford Lake, the water level parameter isn't as clear cut as for Colliford: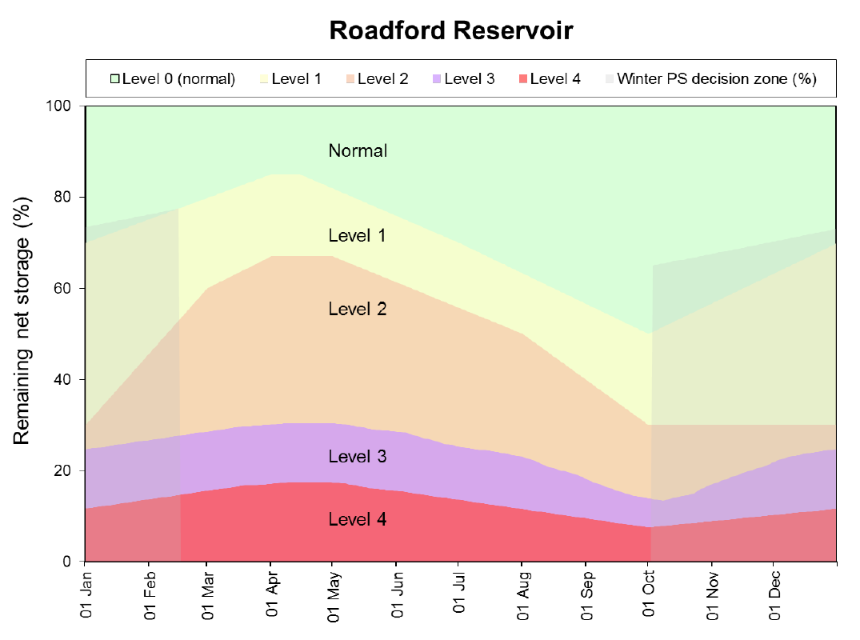 The Level 1 trigger for mid August is around 60%. However the current water level is 57% of total net capacity: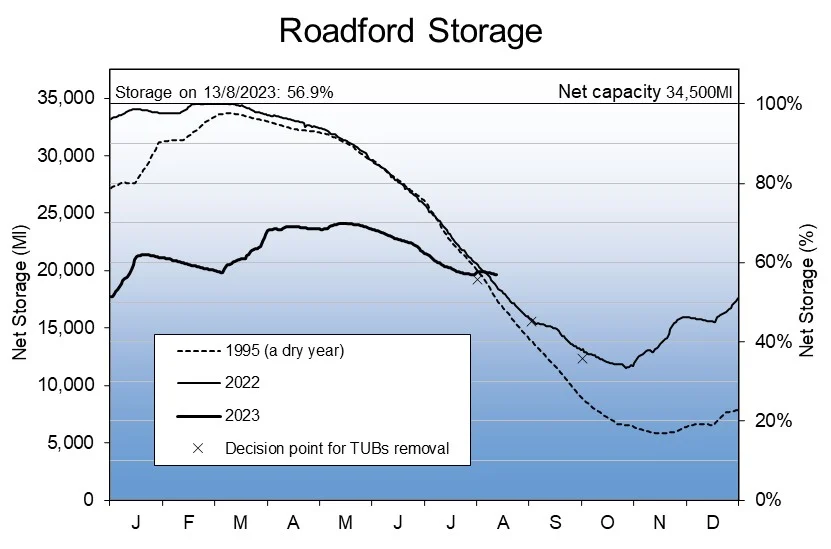 It seems that the hosepipe ban here in West Devon will remain in place for a while longer:
All things considered, using South West Water's published criteria it seems reasonable that a hosepipe ban remains in place for the Roadford Water Resource Zone. However it is a mystery to me why the temporary use ban has not yet been lifted for the Colliford Water Resource Zone: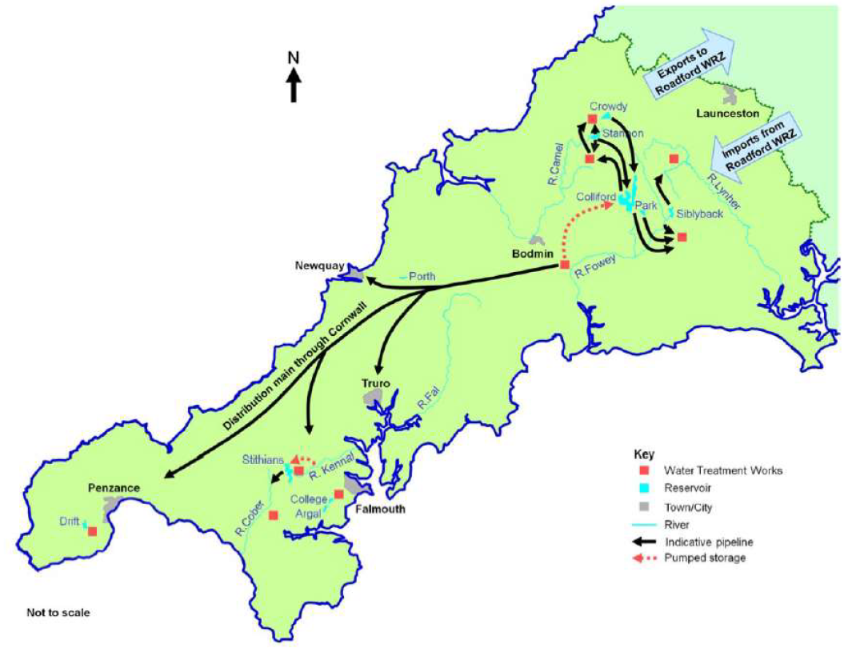 Perhaps those mysterious "imports" and "exports" have something to do with it?
[Update – August 22nd]
South West Water must be avid readers of the West Devon Free Press web site. This morning they issued a press release, which reads as follows:
South West Water can confirm we will lift the hosepipe restrictions in Cornwall and Upper Tamar on 25th September. Since the restrictions have been in place, there have been positive developments due to the collaboration of customers, South West Water's investments, and recent rainfall.

Colliford reservoir is at 57% storage, up 19% from last year. Climate change has shown how unpredictable weather patterns can be and we must continue to protect the region's rivers and beautiful natural resources. We want to emphasise that water is a valuable resource and urge residents, businesses, and visitors to use water responsibly and Save Every Drop.

We will continue to closely monitor water resources, the weather and demand. We have been working closely with the Environment Agency to ensure any decisions are taken responsibly.  We appreciate the efforts of our customers, visitors and businesses in conserving water.
Better late than never for "Cornwall and Upper Tamar"? However, there is no hint of when similar good fortune will bless those of us living, working and holidaying in the Roadford Water Resource Zone.
To be continued…